Google Real Time Quality Scores- The Perfect 10…
Monday, 20 October 2008
As everyone in the PPC world knows ever since Google implemented the 'real time' quality score system, keyword QS has been ranked between 1 & 10. Since this change in the quality score metric advertisers have been striving for this perfect 10.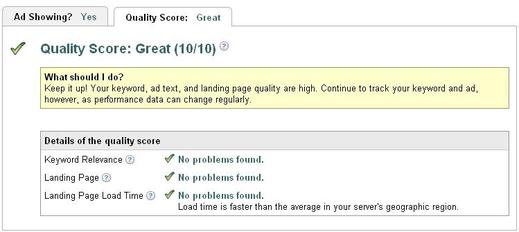 I've read a few threads (including Abbottsys experiments at Search Engine Watch & rustybrick's contribution at the Search Engine Roundtable) that offer different tips & explanations on how advertisers can achieve 'the big 1 0'. Some have commented that they have achieved this score by experimenting with their keyword structure (single keyword Ad Groups, putting keywords on all three match types & by creating keyword specific destination URLs). I'm not going to add to this list of tips or give you all a concrete rule for obtaining the perfect score as I'm sure you all have your own ideas. I am however, going to include an example from my own experience, and let you decide why Google has deemed the term worthy of top marks.
My example of the 'perfect' term (well Google QS wise anyway) is of a generic non- branded term within the travel sector which is set to broad match. The term has a good level of search volume and competition is not in its own Ad Group. The Ad Group has 4 ad variations (all of which have some variation of the term in its copy) and a default CPC that should put the term on the first page of search results.
This term (and others in the account in question) has had the 10/10 score ever since the new algorithm came into play and just goes to show that people can come up with loads of different methods to get the flawless 10 out of 10 but even with just the PPC basics of a tight Campaign & Ad Group structure; a decent CPC; good ad copy and a relevant landing page, advertisers can still enjoy all the benefits a great QS delivers.